Florida can be a sunny paradise, full of bright skies and warm, cheery vistas. Yet even glorious sunshine is not without problems and costs. Fortunately, there are solutions from Solarus USA to help mitigate some of the negative effects of the sun. The worst of these effects? Without a doubt, it is energy costs. The hot Florida days and nights make using your air conditioning (AC) necessary. Your employees or family need to be comfortable, and that comfort comes with a price.
Our solar screens and retractable awnings are designed to block the sun's heat. That means your home or business will need lower air conditioning levels to achieve a pleasant temperature level. Whether you are in Palm Beach, Martin, or Broward Counties, our team of dedicated professionals is ready to install a solar screen for you today so that you can save money for all of the tomorrows that follow.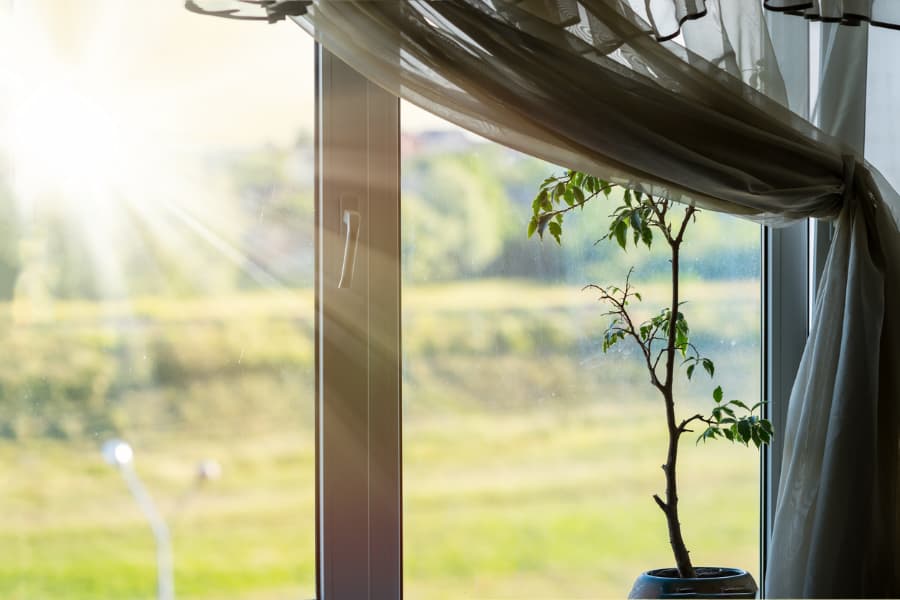 The Sun and Your Energy Bill
How much heat does the sun give off? Estimates indicate that Earth receives 1,370 W per sq m into our atmosphere. What does that mean to a layperson? It means that it's cranking up the AC! Unfortunately, that mentality only serves to drive up your monthly energy bill.
While we can't ask the sun to change, we can try to mitigate and moderate its power. Solar screens are effective at blocking up to 65 to 90% of the ultraviolet (UV) rays that reach Earth. Minimizing UV rays is the key to keeping heat from blanketing your residence or business. With these UV rays held at bay, you will be able to turn the dial down on your cooling units, as well as turn down the cost of powering those machines.
So, how can solar screens and retractable awnings result in more money in your pocket? It starts by reducing wear and tear on your air conditioners and fans. Those devices work hard to keep Florida cool, and sometimes they can break down quicker than we would like. By reducing the stress and output they produce, their lifespan can extend for months and even years. Replacement costs go down, leaving you to spend that extra cash on anything you like. We recommend treating the family or your company to ice cream!
There are even more financial benefits to installing solar screens and retractable awnings. The sun's UV rays cause more problems than just making us uncomfortably hot. They can also do damage to furniture and design elements. Upholstery, carpeting, and drapery can all be negatively impacted by UV rays. Guarding against fading and discoloration will allow you to enjoy your beautiful surroundings longer.
Solar screens and retractable awnings may also improve your property values, giving excited buyers another reason to choose your property. For even more ways to be cost-effective, please check out our fabric recovers for additional money-saving options.
Get More Bang for Your Buck
We want to be your partner in keeping costs down. That's why our Sunesta products come marked with a special number for looking up the specifics of the screen or awning. This personalized customer code is stored in our factory's database for future reference. If you need any assistance, we can provide a fast and effective service that doesn't waste your time.
Wouldn't it be nice to get even more than you pay for? We try to make that a reality by offering the following advantages:
Vast color selection: Our screens are available in a huge assortment of colors, giving you the freedom to suit your style.
Reliably made: With durable polyester and PVC coating, count on long-term use and enjoyment.
Ideal opacity levels: Sunesta's solar screens have varying opacity levels to help ensure each screen provides just what you desire.
Boosting Your Bottom Line with Quality Solar Screens and Retractable Awnings
The sun is an amazing part of the Florida experience, and with our help, you could like it (and your bank balance) just a little bit more. Solarus USA is committed to finding cost-effective solutions to saving Floridians money. Based on countless positive reviews from our customers, you're sure to find that your new solar screens or retractable awnings will quickly pay for themselves. Please contact us to learn more or to get answers to any questions.