An awning is a fantastic choice for adding functionality and enhancing the style of your home or office. Purchasing retractable awning fabric, although daunting, can be made easier by considering the ideal color and texture that will complement your house, office, or restaurant. Selecting the right type is crucial in ensuring coordination with the existing color scheme. Determining the most suitable awning cloth material can be a dilemma. To make the right choice, it is crucial to consider the purpose of the fabric. In this blog, we will provide you with valuable tips to assist you in selecting the ideal outdoor awning fabric for all of your needs. Here are the top 5 things to consider when choosing the perfect awning fabric for you.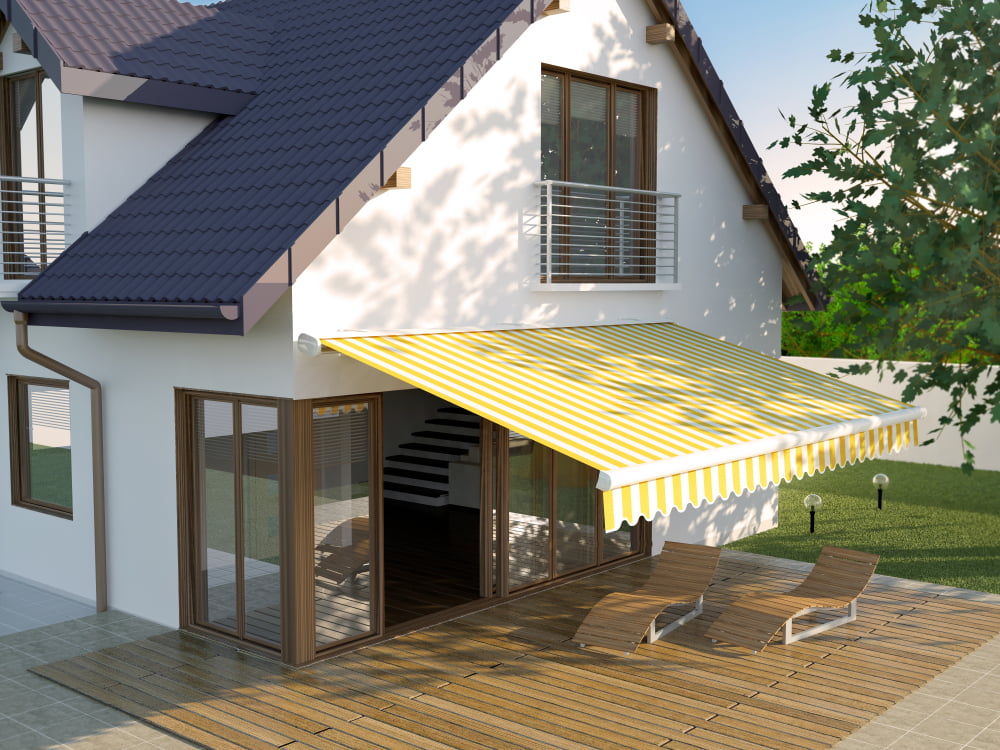 Primary Function
When considering the purchase of awning fabric, it is crucial to always keep in mind your specific needs. If you reside in a region with frequent rainfall, selecting a waterproof awning material is highly advisable. Certain fabrics may not possess sufficient durability and could potentially be susceptible to water damage. Therefore, it is essential to thoroughly examine the material properties before making a final decision. Opting for canvas material in such circumstances will ensure optimal protection against any adverse weather conditions.
Another thing to consider when you decide to purchase awning material is if it is able to effectively lower the heat within your home. In this scenario, the ideal solution would be to select a light-colored fabric. Additionally, it is important to take into account the frequency of cleaning the awning canopy. Certain fabrics are more convenient to clean compared to others. It is crucial to invest in a durable fabric that provides adequate protection against UV radiation.
Consider the Pattern
When determining the most suitable material for your awning, consider the style you desire. Opting for unique patterns can set your home apart. Be mindful of the awning size when choosing a pattern. Additionally, consider the structure on which the awning will reside. For smaller buildings, simple stripes may suffice, while larger structures may benefit from a single solid color.
Complement The Interior Design
To ensure that the awning blends with the existing exterior and interior of your house, it is paramount to select a fabric that corresponds. The last thing you want from your awning is a major contrast between the interior and exterior of the house. If you are looking for an effective way to achieve coordination between the two areas, opt for neutral colors. Additionally, consider accentuating certain design elements by selecting two-toned color combinations.
Match Colors With Paintwork
Matching your awning fabric with the paintwork of your home is always a great idea. This creates a beautiful and seamless look while simultaneously creating added appeal. To achieve a cohesive exterior, duplicate the same hue across both elements. However, you can also opt to contrast certain colors to create a unique and captivating aesthetic. Choosing a color that goes well with the exterior paint is essential to ensuring your home is something you can be proud of. Awnings that don't go with the rest of the home can be an eyesore to both the occupants and their neighbors. That's why making sure there is cohesion to the aesthetic is so essential.
Keep It Simple
When picking the right awning fabric, it is best to keep it simple. While intricate designs may look appealing initially, they can quickly become outdated and require frequent replacements. Stick to neutral colors that blend easily with any home design. Additionally, pick materials that are easy to clean and maintain to ensure your investment lasts for years to come.
Solarus Awnings Offers the Best Awning Fabric Around
At Solarus Awnings, we strive to provide you with the highest quality awning fabric that is specifically tailored to fit your needs. Our products are long-lasting and can withstand even the harshest of weather conditions. We understand how important it is for your awning to match the existing interior and exterior of your home or business, and that's why we offer a wide range of colors and patterns. We also have an experienced team of professionals who are here to answer any questions you may have about choosing the perfect awning fabric for you. Contact us today to learn more!