If you live in Florida, you have a lot of very small neighbors, and it's a fact of life that those neighbors want to bite you. These insects (including mosquitoes, biting flies, and midges) can easily prevent you from enjoying Florida's gorgeous weather. That's where Solarus USA in Palm Beach, Martin, and Broward counties comes in: with our high-quality custom retractable bug screens, you can enjoy the outdoors without getting eaten alive. But how do you keep your bug screen clean? We have answers to that question here.
Why Is Maintaining Bug Screens So Important?
There are quite a few reasons to keep your bug screen clean. The main one is that the better you maintain it, the longer its useful life will be: you want to get the most use out of your bug screen. Dirty bug screens are also less effective at maintaining the ventilation in the area they protect. Finally, having a clean bug screen preserves the appearance and curb appeal of your home.
How Often Should I Clean My Bug Screen?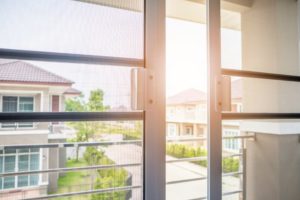 The simple answer to this question is that the better you keep it clean, the less work each cleaning requires of you. A number of factors can have an impact on the ideal bug screen cleaning schedule, including whether you live near a body of water and how many insects get caught up in your bug screen.
If you live in an urban environment, you should generally expect to clean your bug screen twice a year. This removes any insects that have been caught in it, as well as removing the buildup of pollution and grime that comes from living in a city. If your home is in a more rural area, you should clean your bug screen at least every three months: this helps keep your screens clear of fertilizers and other chemicals that may have blown onto them. Finally, if you live within half a mile of the coast, you should do basic cleaning of your bug screen at least once a month. This helps remove the corrosive salt buildup that's a fact of seaside life.
3 Easy Ways to Clean a Bug Screen
There are a few different methods for cleaning a bug screen, but before you begin any of them, you have to be prepared. If your bug screen is easily removable and accessible to you, it's a good idea to remove it before you begin. This lets you maximize your reach. Place any brackets and screws into a secure plastic bag to keep them dry, then remove your bug screen from its brackets and stand it up against a wall.
Because bug screens are so tightly woven, you will need to wash them in both directions. Make sure to clean from both sides of the screen, as well. Once it has completely dried off, you can return it to its place.
Water and a Bristle Brush
Water is one of the greatest solvents known to humanity, and in many cases, all you need to clean even the dirtiest bug screen is a garden hose with a sprayer attachment. For truly stuck-on grime, use a nylon bristle brush. Make sure that you clean both sides of your bug screen, and let it dry completely off before you put it back.
Soap (or Vinegar)
If using just water isn't cutting it for cleaning your bug screen, you can add a cleaner to the mix. While there are plenty of purpose-made screen cleaners on the market, you can generally get by with using gentle dish soap or a mixture of white vinegar and water. If you use these options, make sure to rinse the bug screen well after you're done. You don't want your cleaner of choice to dry onto the bug screen and cause corrosion.
Pressure Washer
If you have a pressure washer, you can use that to clean your bug screen instead, but there are a few things to consider before you start. Bug screens made from low-quality materials may not stand up well to the pressure of a power washer. Keep your power washer on its lowest-intensity setting throughout the wash: even with top-of-the-line bug screens like the ones Solarus USA manufactures, you're dealing with flexible metal, and you don't want to bend it out of shape. Finally, choose the widest nozzle that you have for your power washer.
Solarus USA: Florida's Top Choice for Retractable Bug Screens
Home and business owners in Broward, Palm Beach, and Martin counties, Florida, who are looking for a bug-free outdoor experience should add custom bug screens to their property. Solarus USA is one of Florida's premier creators of awnings, solar shade systems, and retractable bug screens, and the company has been using top-quality materials designed to withstand even the most dramatic Florida weather since 1981. Our products are designed to be the strongest in the country, which includes Miami-Dade wind load code approval for our retractable awnings, and our goal is to provide you with premium service, no matter what you request.
Contact Solarus USA today to learn more about your custom retractable bug screen options.