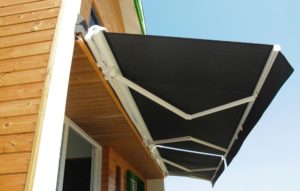 The hot summer weather can sometimes be too scorching to bask under the sun. On such days, you can cool off indoors in the AC or relax under a retractable awning over your patio. Staying outside seems the better idea since it provides a better landscape view and saves on your electricity bill.
However, as much as you want to stay outside, you must have your retractable awning on point. This calls for a smooth installation process before the hot summer period kicks in. If you're looking for a reliable retractable awning installation company in Martin, Palm Beach, or Broward counties, the retractable awning installation team at Solarus USA is here to help. Learn how long it would take to install a retractable awning and the factors influencing your timeframe.
How Long Would It Take to Install a Retractable Awning?
There's no defined timeline for installing a retractable. However, a skilled installer would take about two hours to set up a standard-size retractable awning. If you choose to install it yourself, it may take longer. Factors that affect the timeframe are:
The complexity of the installation process
Your installation skills
The availability of tools such as masonry hammer, drill, crowbar, rare earth magnet, and vinyl siding tools
Factors That Influence the Time It Takes to Install a Retractable Awning
Several factors can impact how long it takes to install a retractable awning. Some factors depend on the awning's configuration, weather, and availability. Let's have a closer look at these factors.
Awning Complexity and Assembly
Retractable awning installation timelines differ depending on their mounting style, frame styles, accessories, fabric style, and metal frames. Standard awnings may take two hours, while pre-installed lightweight awnings take less than an hour. Metal and fabric awnings take more time but may take less if they have a simple design.
Size of the Retractable Awning
Smaller retractable awnings with simple designs are easier to install. They take less than an hour to set up. Large retractable awnings have many pieces and can be more difficult to install.
Errors During Installation
There are chances of errors while installing a retractable awning for the first time. These errors may result in damage and set your installation back. That's why it's crucial to hire an installer if you're installing an awning for the first time.
Weather Issues
You need to plan your awning installation during months when the weather is generally mild. This gives you flexibility in scheduling in case of high winds and storms. Otherwise, your project may be delayed.
Installation of Custom Awnings
If you want to set up a custom retractable awning, the installation process may take several weeks and months. Installation experts usually give their customers an installation time estimate based on the complexity of the awnings.
How Do You Install a Retractable Awning Within a Short Timeline?
You need to know and do a few things to install a retractable awning within a reasonable timeline. Here are a few considerations that can help you:
Know Where to Install Your Awning
You can install retractable awnings in the following locations:
Wall
Roof
Soffit (eaves)
Fascia (the space between the gutter system and soffit).
These mounting locations require specific mounting structures and experience. Therefore, it's essential to have the necessary structures and determine if you're experienced enough before installing the awning yourself. Otherwise, seek help from a professional to have the installation completed within a short timeline.
Get an Estimate
It's crucial to get an estimate from an awning installer to determine how long the entire process will take. This will help you prepare for the installation process and avoid getting frustrated when the process takes longer than expected. A reliable installer should ensure that the installation process completes within the estimated timeline.
Choose the Right Installer
A low-priced retractable awning installer may take longer than expected to install a retractable awning. It's best to look for an experienced and reliable installer to install the awning within the shortest time possible and save on your cost. Ask friends and neighbors to recommend a reputable local installer you can work with.
Inspect the Installation Area
Once you've identified where to install your retractable awning, your installation expert should take the correct measurement to ensure that it properly fits your desired location. This will help the installer identify the proper hardware, tools, and materials needed to complete the installation on time. They will also recommend actions to prepare the installation site, such as tending to your pets and removing furniture to avoid any hindrance to a fast installation.
Create Unique Outdoor Space With Solarus USA
A retractable awning gives you an outdoor space to relax, so why not go for a reliable installer to get started enjoying your space sooner?
Solarus USA is your reliable retractable awning installer in Palm Beach, Martin, and Broward counties in Florida. We will work with you to ensure that you get and install a retractable awning that suits your preference and fits your outdoor space perfectly. Contact us today, and we'll help you create a unique outdoor space.