Your retractable awnings are a wonderful addition to your living space's exterior. The shade and convenience of a retractable awning make them ideal for savoring sunny days and staving off rainy drizzles. But between the elements, wear-and-tear, wildlife, and whatever else Mother Nature has in mind, your beautiful awning can start to lose its luster. Never fear! With just a little elbow grease from you and the know-how of Solarus USA, your awning can regain its magic and majesty—here's how.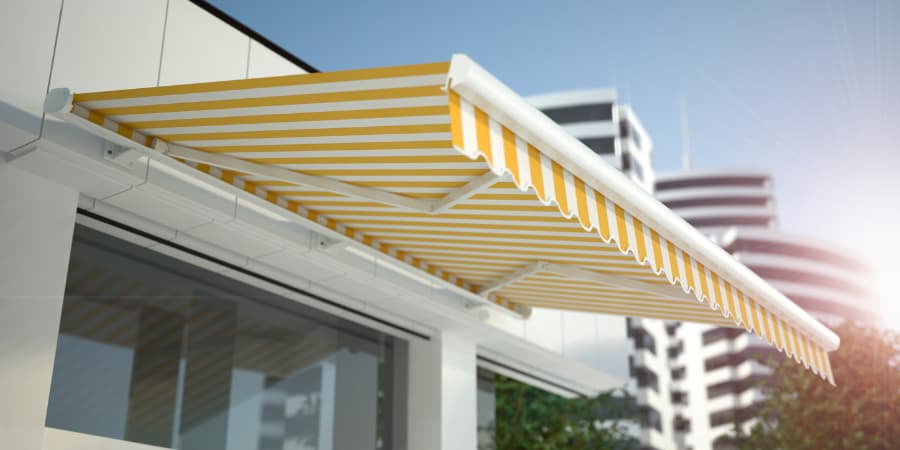 Why Is Cleaning Important?
Many people do not realize that they need to wash their retractable awning and miss out on the many benefits of making this choice. For instance, cleaning can significantly impact the lifespan of the awning fabric. It can keep you from having to buy a new one prematurely, which saves money in the long run.
There also is the issue of aesthetics. Bright, clean, and colorful fabric always beats dingy and dull. Make sure your awning passes the eye test for every person who visits. Eliminating odors is another worthwhile reason to clean your awning. Cooking grease and bug spray aromas can get embedded in the fabric, while animal waste can occasionally be a problem, as well.
Lastly, there are health concerns to consider. In some instances, pollen can gather and mold can grow on unclean awnings, which can be hazardous to a person's wellbeing. For these reasons, cleaning awnings isn't just a maybe —it's a must.
Before you begin, mix a bucket of lukewarm water and a small dollop of dish soap if desired. For tougher jobs, a little bit of bleach mixed with water might be appropriate. Then, follow these steps:
Brush away any cobwebs or leaves that have gathered on your awning.
With a damp sponge or a hose, take your time and be sure to wet down the surface completely.
Use a soft-bristled brush to scrub away any stains as needed.
Rinse away all of the soap and bleach.
Let your freshly cleaned awning dry in the air and wind.
Just like that – you've done the job and are ready to enjoy your day.
Protecting and Enhancing Your Clean Awning
Now that your awning is clean, how else can you enhance it? We offer a variety of products designed to beautify and accessorize your awning, including:
The Sunboot: This protective cover keeps your awning clean and protected during the winter and when not in use.
LED lights: Enjoy your awning at night with this functional light solution, adding a classy or energetic vibe to any evening.
Motion sensors: High wind velocity has the potential to damage your awning. Help keep your awning protected with a high wind motion sensor that automatically activates the motor to retract in dangerous and windy conditions. Keep your family, your awning, and yourself out of harm's way.
My Link: With just your smartphone, you can now open and close your awning from anywhere. Enjoy the convenience of using modern technology to make life simpler.
Multiple-channel remote control: With multiple awnings, you will need a device capable of controlling all of them. Don't waste time trying to find a specific remote.
The Last Word on Cleaning a Retractable Awning
Once you start cleaning, you'll notice how simple the task is, especially when you choose awnings from Solarus USA. Why is that? In part, it's because we use only materials of the highest quality for our comprehensive selection of custom retractable awnings, patio awnings, window and door awnings, and solar sun shades. We won't cut corners and will never use lightweight aluminum roll tubes that sag or bend in a wind storm.
Remember that our Sunesta, Sun Style, and Sunlight awnings all come with a Sunesta factory Limited Lifetime frame warranty, adding extra durability to your awnings. Solarus USA has more than 40 years of experience with awnings and is happy to help you maintain your item with ease. For more information on retractable awning cleaning, contact us about cleaning or any other questions you might have.