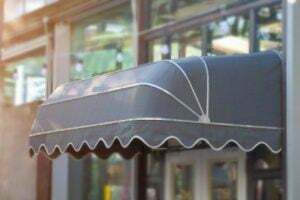 Gray awning in front of shop[/caption]Florida's abundant sunshine is, of course, one of the reasons we love living and working here. Too much sun, along with rain and occasional severe weather can be less wonderful for ourselves and our homes and businesses, though. Installing customized window and door awnings can provide the added comfort and protection you and your home or business need while adding curb appeal and a stylish touch. With countless ways to combine awning styles, fabrics, colors, and patterns, beautiful, long-lasting awnings from Solarus USA will complement any building.
Why Add Window and Door Awnings to Your Home or Business?
Awnings offer an unparalleled combination of protection, beauty, and savings to any home or business setting.
Protection
Perhaps the main reason awnings are chosen is the protection they provide. The awnings we offer are made with aircraft-grade aluminum alloy and memory steel for long-lasting, durable protection. Our awnings can:
Keep your home or business cooler by reducing direct sunlight hitting your windows, doors, and sliders
Protect people and pets from unwanted exposure to direct sunlight near windows
Prevent direct sunlight from fading or damaging furniture, rugs, artwork, and other furnishings, both inside and out
Protect vulnerable plants and decorations close to your doors and windows, keeping them safer from overexposure to sun or damaging weather
Stop the rain from hitting windows, so you can open them during the rain, and can maintain dry spaces outside doors and sliders
Help protect your windows and doors against storm damage, including hail
Added Value and Curb Appea
Awnings add a finished, classy look to any home or business. By carefully choosing an awning profile and fabric choices which complement a building, these functional additions can express your personality and style. If you plan to sell your home or business soon, or in years to come, investing in door and window awnings can add value and improve its curb appeal.
Comfort
Window and door awnings reduce the direct sunlight coming through your doors, sliders, and windows, preventing solar heat buildup inside your home or business. In fact, government studies indicate that window and door awnings can reduce solar heat gain by up to 65% for windows that face the south, and up to 77% for windows facing the west.
Savings
In addition to massive cooling cost reductions from limiting solar heat gain, awnings can also save you by protecting the valuable contents of your home or business from fading and deterioration caused by UV light exposure.
Many Ways to Customize Window and Door Awnings
Classic, bold, minimalist, colorful, and natural, there's an awning style to match every building and its owner's personality and preferences. With countless combinations of shape, style, color, and valances, it's simple to create window and door awnings that perfectly complement and enhance your home or business.
Door and Window Awning Sizes
Awnings are made in custom widths to precisely fit your windows and doors. The length your awnings extend from the building will depend on a combination of factors, including:
The size of your windows and doors
How far doors or casement windows must be able to open
The directions windows face
Choosing an Awning Style
Window and door awning styles are generally determined by their shape and how many ribs they have. Awning shapes are typically rectangular, domed, or a combination of the two with wider, rectangular shapes but more rounded upper corners. Ribs are the bars that run parallel to the building, so a 2-rib style is closest to a triangle shape, while a 5-rib style is more like a quarter-circle with an almost curved profile rather than an angled one. Awning frames come in several color choices to coordinate with your home or building and your awning fabric choice.
Awning Fabric Color and Pattern Selections
Choosing from among dozens of different color and pattern choices of our fade- and mildew-resistant, fire-retardant, waterproof marine-grade awning fabrics is the most exciting part of customizing your window and door awnings. Solids and stripes of every shade and variation can be combined with several options in valance and binding styles to match your preferences.
Enhancing Your Home or Business With Window and Door Awnings From Solarus USA
Choosing from so many options to fully customize your window and door awnings can be a little overwhelming sometimes, so our staff at Solarus USA is always ready to answer your questions and help you choose the styles and options which best meet your needs. Contact us today to start designing customized awnings to give your southeast Florida home or business the beauty and protection they offer while providing you the savings you deserve.