With retractable awnings becoming an increasingly popular addition to homes and commercial spaces, it's always great to find ways to make them even more functional and stylish. That's where awning accessories come in! These versatile accessories not only help enhance the functionality of your awning but can also add a touch of elegance to your outdoor space. Retractable awnings already offer valuable benefits – from protecting you and your indoor furnishings from the sun's harmful rays to saving money on energy costs. But why not take things to the next level? In this blog, we'll take a look at five must-have awning accessories that can make a world of difference and truly make the most out of your awnings.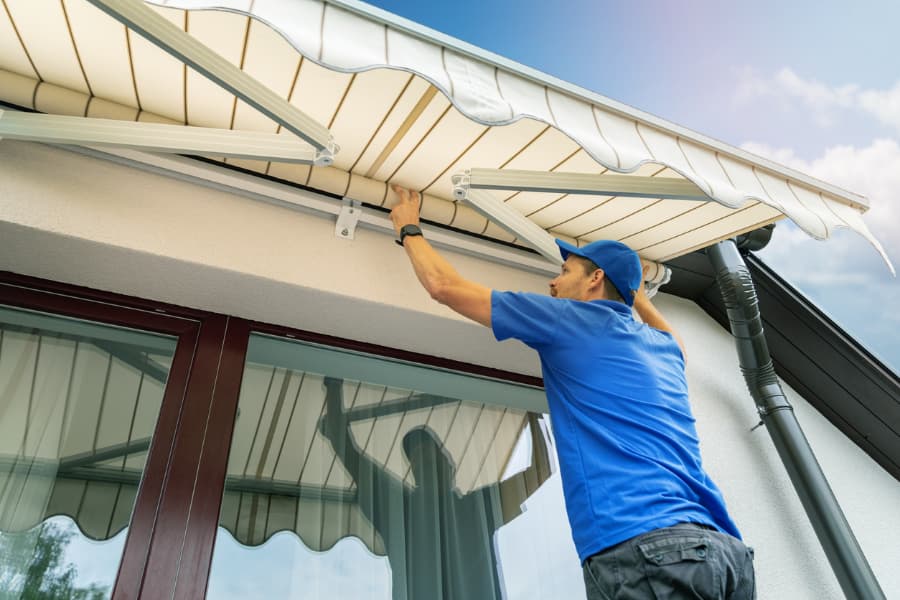 The Sunboot
The Sunboot, from Sunesta, is the perfect awning accessory to make sure you don't have to worry about your retractable awning during the long winter months when it's not in use. Made from Sunesta's signature synthetic fabric, the Sunboot protective awning cover is the perfect way to give yourself some peace of mind while your awning is retracted for months at a time. With a convenient velcro opening that runs the entire width of the product, the Sunboot awning cover can easily be closed once it is placed over your awning. Not to mention that since it is made out of acrylic materials, you can choose from a variety of colors to make sure it isn't an eye sore and complements your home's existing aesthetic.
LED Lights
Their sunlight-blocking ability makes awnings a perfect way to add some daytime entertaining potential to any property. However, with the addition of LED lights to your awning, you can make sure the party lasts even when the sun is long gone. With easy installation and remote-controlled options available, LED lights can add an element of style and convenience to your outdoor space without too much hassle. Not only that, but there are many weatherproof LED lights on the market, so you don't have to worry about your flashy new setup succumbing to the elements. With customizable brightness options, you can give your home the perfect glow whether the sun is just setting or you're partying well into the night.
Motion Sensors
While high winds can be a cause for concern, there is a solution so you don't have to worry about the potential of losing or damaging your awning in such conditions. By investing in motion sensors that accurately detect gusts and automatically retract an awning as needed, customers gain assurance knowing their property remains safe from any wind-borne damage or danger to neighboring properties. The added peace of mind, combined with the improved safety of your property, make motion sensors a worthy addition to any awning setup.
My Link App
With the My Link app, you can take control of your outdoor entertainment area like never before. Thanks to My Link, you can simply use your mobile device to activate your retractable awnings from wherever you may be and have your space ready for guests before you even step outside. Thanks to this modern technology, you hold the key to a more convenient and enjoyable outdoor experience right in the palm of your hand.
Multi-Channel Remote Control
If you have multiple retractable awnings, controlling all of them individually can be a difficult task. Thanks to a multi-channel remote control, however, you no longer have to worry about operating each awning by itself. With a multi-channel remote control, you just need one remote in order to control each and every one of your retractable awnings. No more fumbling with multiple remotes or trying to track down the one that you lost. Now, with one remote, simply choose the awning that you want to adjust, and the remote will do the rest. Enjoy the convenience and simplicity of controlling all of your awnings with unmatched ease.
Awning accessories are a great way to add style and functionality to your retractable awnings, and there's no better place to get these five must-haves than Solarus USA. If you have any questions about our accessories or any of our other awning products, contact us today, and we'll help you in any way we can. We make it our mission to provide you with the best awning products around.